About us
AP Law Chambers is a young and dynamic multi-specialty law firm with presence in Mumbai, New Delhi, Hyderabad and Singapore.
The Firm is led by Partners who have worked in leading law firms in India, including as Partners and the team has several decades of experience of providing legal services to domestic and international clients across sectors. We have represented clients across multiple jurisdictions including Australia, Belgium, Finland, France, Germany, Italy, Japan, Korea, Mauritius, Mozambique, Singapore, South Africa, UAE, UK, USA, UK. The areas of practice expand across various sectors including IT, ITES, manufacturing, retail, outsourcing, fintech, media and entertainment, among others.
Our objective is to provide fast, efficient and cost-effective service to clients – irrespective of their size and market position, with respect, humility to achieve desired results.
AREAS OF PRACTICE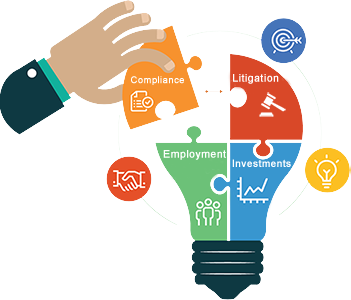 TESTIMONIALS
"

……good at delivering realistic legal solutions to business problems. As a counsel and as a business associate, he is easy to approach and quick to respond to stressed deadlines. Well-read and informed, he comes prepared to any meeting or discussion no matter how informal. His approach and method to a complex problem makes him stand out. He is personally involved and ensures that deadlines are met. He has helped on critical matters with very stressed deadlines.

"

…….provided exceptional strategic and practical suggestions on how to best handle matters related to affirmative (reserved matters) and investor exit rights. He was also sharp in pointing out key diligence matters that could have impact Zephyr's investment value in the long term. We found him to be very thorough and competent who always had the fund's best interests in mind.

"

…… team had given multiple options for us to review in order to move forward and close the transaction in a swift manner. His keen eye on detail and his experience was very helpful in saving us from potential commercial damage which may have arisen in the future.

"

….highly recommended by an ex-colleague and I think it was one of the best decisions we made. …..has always been extremely reliable and honest in all his dealings with our company. He has a sharp mind and an exceptionally strong eye for detail that has been a benefit to our firm on more than one occasion. He has excellent understanding of Indian and international law and we completely rely on him for any advise relating to legal matters. He is very diligent about maintaining client confidentiality and is a great team player.